Posted by Infusion Displays on 23rd Jan 2023
We live in a competitive marketing world; therefore, using basic marketing strategies to get people to patronize your product or service isn't enough.
According to the American Marketing Association, visual marketing encourages people to pass the advertising message like a disease or virus.
This is why using the X-frame banner for advertisement can help increase the growth of your business.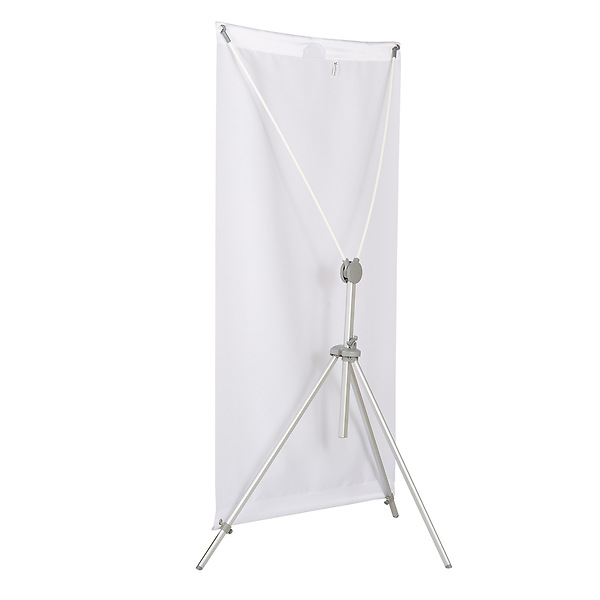 What is an X-Frame Banner?
An x-frame banner is a portable banner used for large-scale promotion. Often, the banner features a printed banner, fiberglass poles, and a carrying bag. The X-frame banner has different variations but has similar design elements.
Each banner features two hubs offering support. The hubs are connected to the corners of the banner and coupled with grommets.
You can easily maneuver the arms, which act as tent poles to hold the banner. They also have a support leg that balances the banner like a tripod. This helps in changing the angle of the banner.
What are the Advantages of an X-Frame Banner?
X-frame banners have multiple functions. This is why large corporations and small enterprises utilize them for marketing campaigns. Below you will find some of the top advantages of X-frame banners, including:
Portability for Your Marketing Team
Versatility for a Range of Useful Applications
Budget-Friendly for Maximum Functionality & Minimum Cost
Portability for Your Marketing Team
Given their simple design, you can easily pack them in any small space. The flexible banner stands feature adjustable lengths that can hold a variety of banner sizes. This means you can easily assemble the banner in a matter of seconds and change the advertisements as often as possible.
Versatility for a Range of Useful Applications
You cannot overlook the wide range of functions of X-frame banners. In addition to its portability, marketing personnel relies on the banner for various reasons. Look at the top three uses of an X-frame banner below:
Help your target audience navigate.
X-frame banners can be placed in different areas of your showroom to help the audience to move around. Often, they are placed at entrances or corridors to direct the audience toward the correct location.
In addition to directions, you can also display 'how-to-use' directives for your product or services. They are effective when launching new applications.
Highlight key product and service features.
You can also use the X frame banner to launch the company products or services. Whether for product activation or introducing new services to the public, the banners offer an excellent display to boost advertisement.
Display Social Proof
Graphic designers can curate the banners to validate the company's stance in the community. Often, these banners feature a celebrity who endorses the product or services you offer. They can also feature a certification from an authoritative figure or simply display user recommendations.
Budget-Friendly for Maximum Functionality & Minimum Cost
If you want an affordable, versatile, easy-to-use banner, you should go for the X-frame banner. These banners are popularly used for large-scale marketing campaigns. Instead of spending thousands on advertising, utilize these banners to create awareness locally.
How Do You Use an 'X' Banner Stand for a Profitable Trade Show?
You can use an X banner stand for a profitable trade show by placing them at the entrance and exit of the event location. Ideally, marketing gurus use these placements for people to inquire about your business. To ensure the banner is effective, it's key to include eye-catching color, messaging, size, logo, and proper materials.
Find Portable & Versatile X-Frame Banner Stands at Infusion Displays
Fortunately, the professional art department at Infusion Displays designs custom X-frame banners for expos, trade shows, or conventions. We offer a wide selection of X-frame banners that can specifically address the needs of your company and your audience.
To prepare your brand for a productive and profitable marketing event, reach out to our team today.